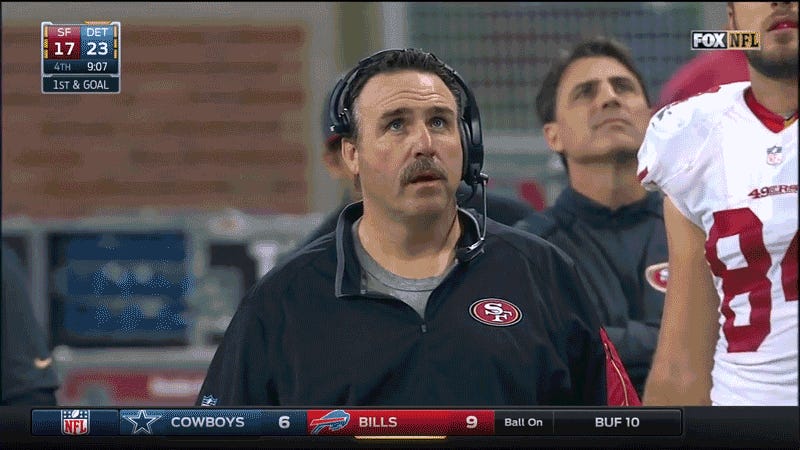 My job involves making predictions, and not all of them are accurate. In no particular order, here are some NFL takes I had this season which turned out to be wrong. (These weren't all published.)
I thought the Raiders were going to continue to suck if they hired a retread coach. Instead, they brought in Jack Del Rio, and looked fine. The team's future is bright.
I thought the Packers would trample the NFC and get to the Super Bowl. Jordy Nelson's injury made that tough, and Davante Adams, in an inspirational story, became the first NFL receiver with no actual hands.
I thought the Eagles would clean up their division. The NFC East was complete dogshit, but the Eagles sucked, and now Chip Kelly's gone.
I thought Marcus Mariota would immediately carry the Titans and make them a .500 team. I forgot that the rest of Tennessee's offensive players have zero talent. God, they suck so hard. Mariota will be good, though.
I thought Tom Brady wouldn't win his appeal.
I thought Frank Gore and Andre Johnson would be effective free-agent additions.
I thought the Skins were going to be horrendous. Fuck them. They're still awful.
I thought Jameis Winston would be an immediate bust. He'll be fine.
I thought (and still think) Jay Cutler was a good quarterback in a bad situation. I'm too far gone to change my stance.
I thought Rob Ryan was a good defensive coordinator in a bad situation. I changed my tune on this one.
I thought the Monday Night Football Ravens-Browns game would be the worst Monday night game of the season. It was the worst—for Browns fans.
I thought the Rams would easily have the best defensive line in the league. They had the talent: Robert Quinn, Aaron Donald, Chris Long, Michael Brockers, William Hayes, Eugene Sims, and Nick Fairley. The line was in the top half of the league, but Quinn missed a majority of the season, and they definitely weren't the best. This is a really specific one, but it bothered me.
In a feeble defense of myself, here are a couple of things I got right:
I foresaw the Eagles signing Tim Tebow. Then, they cut him.
I defended Norv Turner multiple times in our staff chat and said he was a good offensive coordinator. Eat it, Norv haters.
I thought it was very silly when Greg Bedard chose the Ravens to win the Super Bowl.
I thought Jim Tomsula would provide endless joy to the NFL. I'm proud that Deadspin led the pack in Tomsula coverage.
I figured out Raiders linebacker Ray-Ray Armstrong barked at a police dog before his name was released:
Those are the ones I can remember. If you remember others, let me know. I'll try to do better next season. Sorry.